Thank you for your 2021 Donations made:

In honour of:

Thiessen, Daniel – from Marge Thiessen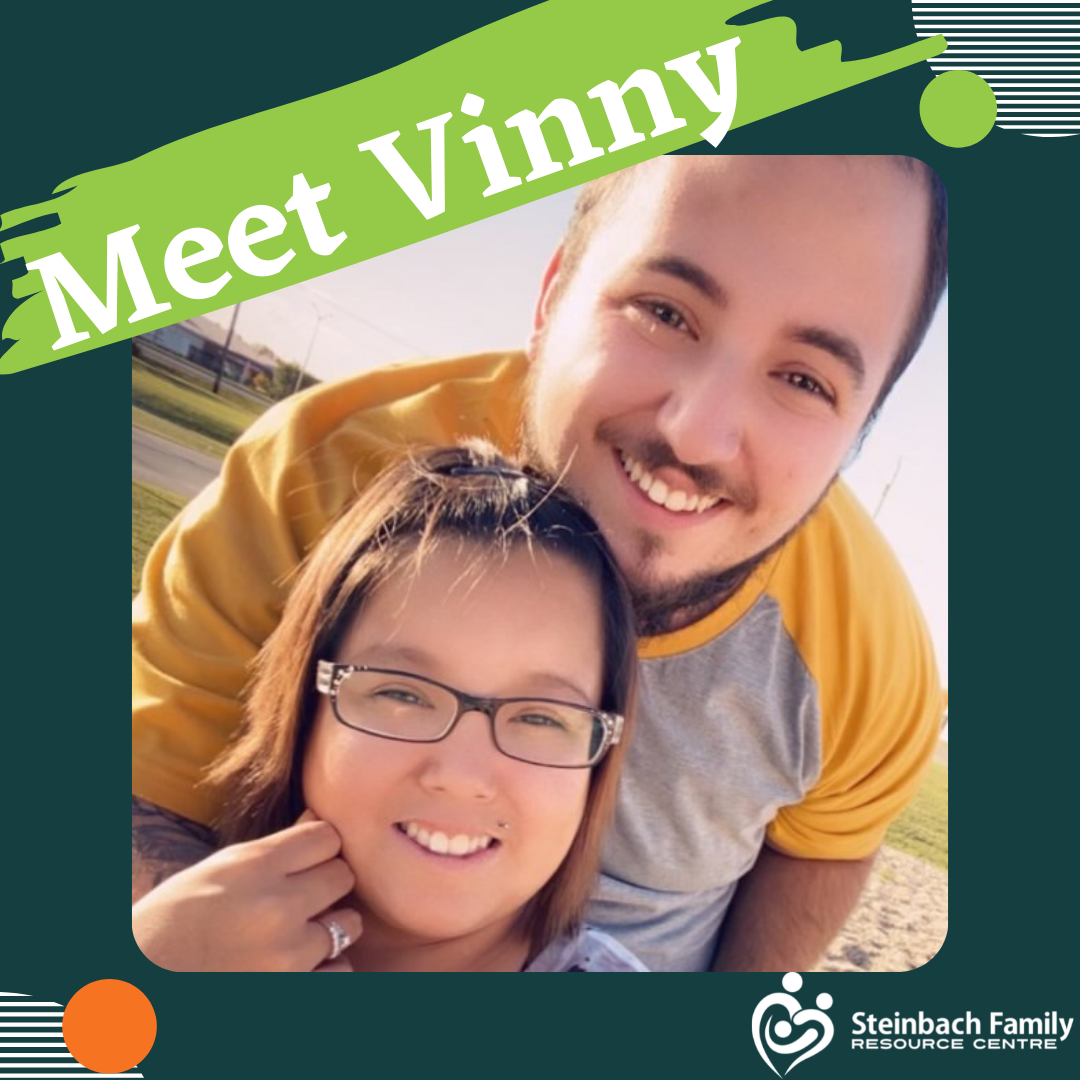 Vinny's Story
When Vinny and his wife were thrust unexpectedly into parenthood, as foster parents to a family member's four-year old son, he had no idea how being a Dad would change his family, his marriage, and his outlook on life.
In school, Vinny graduated and worked as a Health Care Aide, and through his work and teaching positions in the Health Care field, he had a good understanding of childhood development. However, none of his education could prepare him for the real life experiences and challenges of parenthood.
"We were the people who were like, "my kids won't do THAT"
Vinny's wife was familiar with the foster system, having grown up with foster siblings for much of her childhood, but Vinny didn't have a lot of hands on experience with children. Taking on the role of a foster parent was intimidating at first. "I didn't have the most ideal situation growing up; I didn't want that to affect my parenting style."
When *Parker came to them, he was four years old, and the challenges he was experiencing in his home had caused him to regress in his development. He was not toilet-trained, and he was no longer speaking in full words or sentences. Within a few months of living with Vinny, he found stability and quickly caught up in his language and hygiene milestones.
Along with his language and hygiene skills, Vinny and his wife learned to deescalate Parker's anger outbursts, and help him to feel comfortable in social situations. As he continued to learn positive ways to parent, Vinny attended the Nobody's Perfect Parenting group at Steinbach Family Resource Centre, where he was able to share his experiences, hear from other parents on their own parenting challenges, and learn strategies on how to manage difficult behaviour.
"One of the biggest things we have found has really worked is labelling his emotions for what they are. So if we understand you're 'frustrated', and can name it, we notice that has significantly decreased the angry outbursts."
Parker is now in Kindergarten, and looking forward to going to school full time in Grade 1. Vinny and Cheryl help him with remote learning, and is finding new ways to help him enjoy the focused writing and reading work that is the most challenging for Parker. As Vinny sees his efforts in parenting through these challenges pay off, he becomes more motivated to be a great Dad.
"Now I'm even more invested in wanting to learn, it's not just for the child that I'm helping, but it's also for me - I'm emotionally developing at some level at that point too. It's kind of like we're in this together, we're both learning this at the same time and I think it's really cool."
Vinny's outlook has evolved in his relationships with his wife and with others through his new role as a foster Dad. As he grows in his patience and understanding, he has spent time reflecting on his own childhood alongside other families at Steinbach Family Resource Centre. In this open-minded environment, Vinny has realized he had been holding on to resentments from his past and the world around him. 'I realized I had to stop worrying about who I didn't want to be and focus on who I actually was, and who I wanted to be. There is always room to move past things. What happened yesterday doesn't mean that is who you are today."
Vinny's personal and family struggles with addiction inspire his commitment to parenting. He has been recently sober for three years and is committed to learning as much as he can about parenting positively in today's world, by listening to his intuition, taking advantage of limitless experts and information on the internet, and attending educational groups with his peers like the ones at Steinbach Family Resource Centre. Through these methods he is breaking the cycle of trauma in his life and approaching being a Dad in a different way, by giving back as much as he can to his son, the next generation, and to other families.
*Name changed for privacy reasons.
Read Beth's Story of how SFRC helps moms all year long.
This year, we want to share the impact SFRC has had for one Mom in our community. Meet Beth. Beth is a writer, teacher, wife, Mom and world traveler. As a girl, Beths' family moved to Belize where she worked at a teacher's college. In her career, Beth worked with children and families, and loved volunteering in the community. In Belize, she met and married her Canadian husband, and at the age of 29, they got pregnant. Beth had fears about raising a child in Belize, where violence is an ongoing concern, and they planned their move to Canada, arriving just 10 short weeks before her due date.

Along with moving to a new country, living with relatives and helping her husband with his job-hunt, Beth was overwhelmed with immigration paperwork. When her daughter Katharine was born unexpectedly 5 weeks early, Beth's mental health was at an all time low. She stayed in bed a lot that first year, and when her husband got a job in Steinbach, they moved into their own home away from the support of their relatives. There, Beth went to the Public Health Clinic to ask for help. It was there she was told about Steinbach Family Resource Centre.

"Being a mom is not the same as working with children. Running kids groups from 8-3 on sat/sun is different than nursing a baby at 5 o'clock in the morning"

SFRC was a light in the storm for Beth. Weekly support groups gave Beth the outside support she needed, and helped her to find friendships in a new community. Along with the child development science and education around attachment in parenting strategies, Beth values above all else the approach of support that is the foundation of the Centre's mission. Connecting with other families through the Centre helped Beth to realize and accept that parents don't always have to have it all figured out. Since then, Beth has attended every parenting group at Steinbach Family Resource Centre over the last five years (except the dad's group!)



"The amount of times I have cried about all the things that Resource Centre [has done]… Just helping me cope with all the stress of everything. Being a new mom, being a new Canadian, being a new 'Steinbach-er"…



When Beth became pregnant with her second child, Megan, she had high levels of anxiety. It brought back a lot of the fear and stress that surrounded her during all the challenges of her first child. But attending Special Delivery Club at the Resource Centre helped her through.



"I didn't know if I could do that again. But just knowing that someone is there, that's what Steinbach Family Resource Centre did for me."



In her third pregnancy, Beth was diagnosed with Gestational Diabetes. These high blood sugar levels during pregnancy increase the risk of pre-eclampsia, depression, and requiring a Caesarean section. Together with the Centre's Dietitian, Beth was able to learn how to manage her diet through recipes that were family friendly and affordable, saving her time and energy. The staff at the Centre worked with Beth to learn the family's preferences, culture and their older girls' nutritional needs - offering family friendly recipes and suggestions.



"I went from having to make two different meals for my family, to finding the things that everyone could eat".



As her children grow, Steinbach Family Resource Centre is there for Beth, and so are the friendships she has made through the Centre. Though she came to Canada six years ago with few connections, today she credits SFRC with being the launch point for many of her closest friendships today.

Beth is just one of many Moms supported every day at Steinbach Family Resource Centre through all stages of motherhood. Your support helps Moms be better equipped through connection, nutrition, education and resources.
Your donation this Mother's Day continues to support Moms like Beth in our community to Overcome, to Teach, to Love, to Connect, to Provide and to Grow. Make your gift to honour the Mom in your life, and strengthen families all year long.